10 - 18July 2011 - Thailand
42nd International Physics Olympiad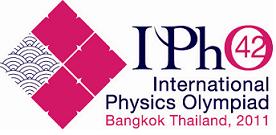 Following Sri Lankan students participated in the 42nd IPhO held in Bangkok, Thailand in 2011.
Sivapalan Chelvaniththilan
St. Patrick's College, Jaffna
Dananjaya Prasad Liyanage
Kingswood College, Kandy
Chelaka Shirantha Welikala
Kingswood College, Kandy
Ms. Poornika Manahari Godakumara
Mahamaya Girl's College, Kandy
Rasika Sandaruwan Bandara
Maliyadeva College, Kurunegalla
Sivapalan Chelvaniththilan of St. Patrick's College, Jaffna received a Silver medal, Danajaya Liyanage and Shirantha Welikala of Kingswood College, Kandy received a Bronze medal each and Rasika Bandara of Maliyadeva College, Kurunegalle received an Honourable mention in this competition.
On behalf of Institute of Physics Sri Lanka, Dr. R.V. Coorey accompanied the contestants.