20 - 29 July 2008 - Vietnam
39th International Physics Olympiad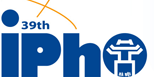 Following four students from Sri Lanka participated in the 2008 IPhO held in Vietnam. A total of 82 countries participated in this event with 376 participants.
Mr. Kirthevasan Kandasamy
S. Thomas' College, Mount Lavinia
Mr. Nayana Sumanga Rajapakse
Ananda College, Colombo 10
Miss. Parami Wijesinghe
Mahamaya Girl's College, Kandy
Mr. Ethige Chamara Lahiru de Silva
Ananda College, Colombo 10
On behalf of Institute of Physics Sri Lanka, Dr. Ramal Coorey and Dr. Mahesh Edirisinghe accompanied the contestants.
In this competition, Kirthevasan Kandasamy won a Broze medal and Nayana Sumanga Rajapakse won an Honorouble mention.